Hey Community!
The Admin team wanted to provide an update on our progress and our current work being done. The members of the Admin team have had some personal responsibilities that briefly interfered with the pace of implementation, but we can assure you we kept the ball rolling.
Below is our current High level document for tracking design and implementation. We'd like to be highly transparent with you guys. If you have questions or input let it rip on Slack.
Engineering
Ship System Control (On/Off binary)
Powernet
Repair
Lock Repair to the Tick
Design Shield Functionality
Implement Shield Functionality
Lock all Module Performance to Module % Health
Player Skills and Attributes
Add Player Skills (Command, Gunnery, Engineering, Piloting, Security, Building)
Add Player Experience Attribute
Experience Point Cost/Skill Level Up Calculation
Skill Level Ups (Spend Experience)
Planet Interaction Mechanics
Planet Attributes + minerals tables
Move to orbit
Mine!
Economy
Ship Inventory Interaction.

Add/Create [Mining or loot etc]
Remove (see below)

Trade Screen: Xfer to Base/Another Player
Sell to Starbases
Faction Mineral Tables
Auction System for Minerals
NPC introduction to tactical
Create Base level NPC loot (exp, credits, minerals)
Determine NPC placement coordinates
Ensure NPC behavior is correct (edited)
System Layout
Planets Coordinates in Core systems
You can see some screenshots below as well.
Starbase and Star Ship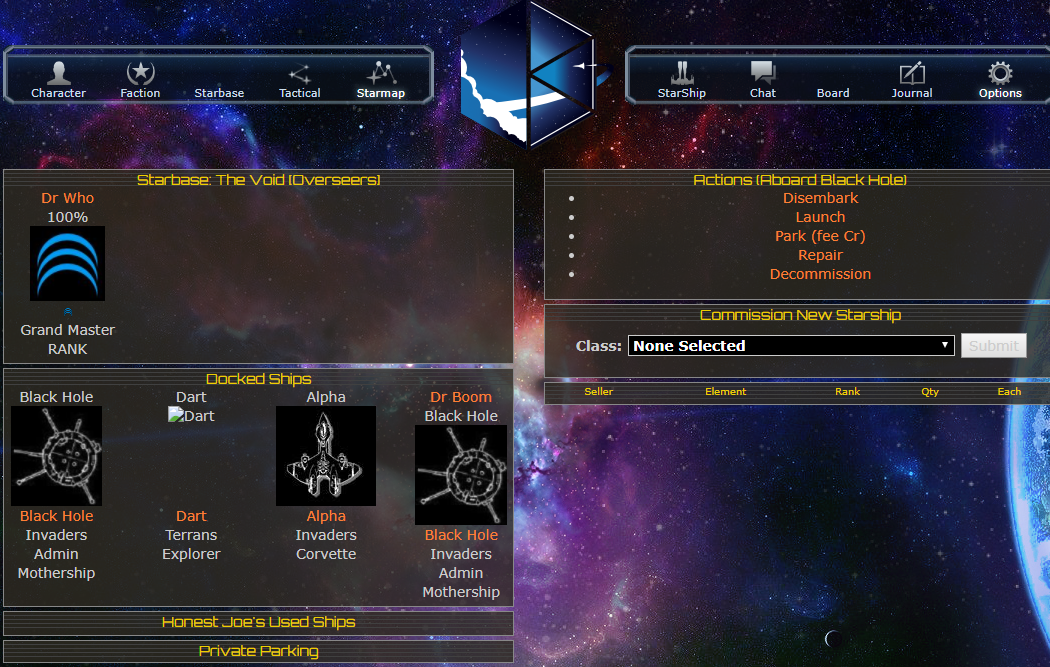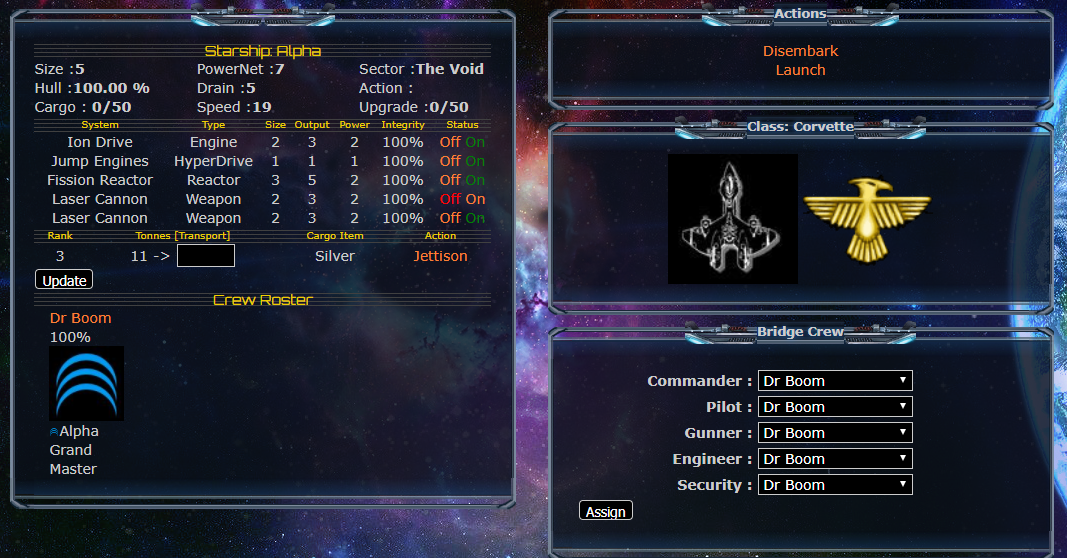 Many of you have been asking after the progress being made, and Dr. Strange and I wanted to give you all an update. Moving forward, I will be taking over the Project updates so Dr. Strange can use his superior abilities elsewhere. My aim is to go frequent, informative, and transparent.
Dr. Boom (that's me) is a Game Designer, rules engineer, and Project manager. He is responsible for most of the formulas that make use of ship statistics, player attributes, and leveling/experience. He is the guy who assembled most of the tables, and designed the NPC statistics. All of my ideas are bounced off Dr. Strange, dude's a genius.
Dr. Strange is the Lead Developer mastermind behind all of the actual code, systems interactions, and screen layouts that comprise the game. He manages the database that holds the tables that populate the information within the game. Anytime something new needs to be added to the game, an adjustment or tweak needs to be made, etc. he is the man doing it.
Dr. Who is the Workspace Admin and he manages the web portals, and keeps everything online. Without him the lights go out.
Together, we discuss ideas, determine prioritization, and then test our ideas once they're live. We have made significant progress, but there is still work to do.
First, I want you all to know what you can currently do in the game, and then in my next post I'll give you a glimpse into our development project pipeline.
Currently, the game is in an incomplete state. You can commission a ship, board it, turn the systems on, fly around, fire your weapons, repair the ship hull. You can even "Activate Hyperdrive", and then scoot on over to another of the 9 current starsystems. But we aren't quite "there" yet.
The team has our project plan for the "Ultra-Minimum Viable Product" and we would like to share it very soon. Our goal is to complete that and then open up an Alpha testing phase.
Well, nearly, it's been 9 months since the first update (but who's counting). It was an exciting day for us all and although we've been working away as fast as possible, time and commitments permitting, it's always been somewhat difficult to show (let alone describe) some of the work taking place.
Hopefully however you will now notice the somewhat dramatic nature of recent changes and pop over to Slack with any feedback.
Although it may seem minor, the update(s) you are now seeing is the result of 6 months of behind the scenes decisions, development and design.
This new design also marks the first release since we first launched, to put that into perspective, 1520 files have been modified/created and 304347 lines of code have been written.
We've still got a way to go but hopefully this will serve as a taster of what direction we are moving in; currently however we've got some troublesome NPC's to wrangle and mechanics to tweak.
Hopefully you all had a good Christmas and are looking forward to the year ahead.
As some will have likely seen on Slack, recently a picture of all of the starbases occupying the void was posted. Although this may seem a little greedy or indeed sinister the purpose was in fact quite the opposite.
By bringing all the starbases into one system we've been flitting between them, grabbing different ships and having a bit of a free-for-all, although fun, this is in a view to test that everything is working as it should when ships are purchased, commanded, shot and destroyed.
This effectively being what we'd all like to be doing. Although these areas are looking more rounded there is still quite a bit of work to be done and a lot to be tested.
Much as the previous hinted, we are still considering a preview/testing session, although this may evolve to an alpha style release. Although limited, it would allow us to test a lot of the core mechanics and stresses of certain aspects of the game.
As ever work is ongoing and I'll endeavour to keep posting updates, feel free to pop into Slack and give us a poke however… we don't bite.
Since the last update, we've been working tirelessly on the game mechanics, ship combat, engineering and module interactions. All of which have come a long way. Each has been tested (perhaps a little too much) and I'm excited to soon start considering a limited alpha… a date with a dev if you will.. where I will likely invite a select few on a number of dates for "supervised" testing.
There are, as ever, still several issues to work out and balancing to consider but for the most part it should feel like the old game, with a few surprises.
Tactical, for some time has been an issue for us. I'm happy to say this is no longer the case, we've achieved something which will hark back nicely to 2002 but also fit in 2017 (it's really been that long!) and I suspect most will be excited to see.
Special mention, for those that have joined slack and provided support/feedback, thank you (you know whom you are). For those that haven't, join us: Slack
PS, although updates have been less frequent, don't fear, we are tirelessly working away. Find us on slack if you need constant reminders and sneak peaks of what we're tinkering with.
Buy a ship, launch, explore…. Then??... over the next few weeks we will be looking at the much needed "what happens next" aspect. Currently our one system is a little lonely… lacking much more than a few boring planets and a starbase.
First up is NPC's, what we have are NPC's that are a little lifeless, they spawn as necessary and roam a system (within reason) … at this point we're looking at adding some firepower and attitude into the mix.
To start this off we will be looking firstly into how damage is delivered, which skills and modules have which effects and more importantly how this is relayed to you to make decisions upon.
We have a few ideas of our own but are open to suggestions (forum if you please). This will likely be a time consuming processes so updates as ever may be few and far between but rest assured we are still here and toiling away.
Lastly, we have a slack channel, please feel free to join and ask questions or be there purely for moral support... this will be rescinded if abused or if we're harassed too vigorously . Slack Invite
What good is tactical anway?
As many will fondly remember, starbases where the hub of most activity within ISW, mainly as this is where our vast arsenals of ships where stored. With this in mind our attention is now shifting away from tactical and it seems as good a point as any to delve into starbases.
Currently we can purchase, dock, commandeer, repair and sell ships… all a good start but more critically we are now able to undock… it seems however docking is somewhat of an art form at present….
Over the coming weeks (once we get our ship back into the base and stop flying around tactical) we should hopefully refine some of the mechanisms involved and start to round of other areas off the game.
Stay tuned.
Tough decisions ahead; for some time now the focus has been exclusively on the new tactical. The idea behind the new tactical is to allow us to slowly move away from turn based logic (but not too far) and add other dynamic layers to the gameplay.
For example, previously ship moment was constrained to the ticks and was purely linear, the newer tactical allows real time ship movement by double clicking the grid, the fastest route (avoiding obstacles) is calculated and said ship will begin its movement. This allows greater use of ship characteristics such as a speed and range but also will add an element of piloting to the mix.
Furthermore, the real-time aspect would also prevent the need to refresh the game which has various performance benefits.
Here in lies the dilemma, the added complexity in delivering tactical 2 is putting a strain on development as naturally there are more hurdles to overcome. As a result it is consuming more time than anticipated.
The existing or old tactical however has been implemented and does function as before (albeit slightly upgraded) however at this stage it feels a little out of place.
At this stage in the project it might be worth taking a fork in the road and returning to tactical 2 at a later stage or it might be worth the delay to proceed as we are.
Decisions decisions.
Over the coming weeks I will be away on holiday, a higher power has banned the use of laptops for the duration and as such there will be a break in development. I will however endeavour to monitor the forum and answer questions so please discuss.
Having eluded to something a bit different being on the cards for tactical, I wondered how best to visualise something that we've been tinkering with…
Alas words didn't seem quite enough soo…. maybe look ... here
N.b: Full disclosure this is a prototype (we are in closed development after all).
It's been a while since the last update, mainly because we've been tirelessly testing different options which alongside other commitments has taken a fair bit of time.
Some of these include:
TacticalXL: Expanding the tactical screen, somewhere in the region 1000px x 1000px.
TacticalDynamic: Expand the map to the available screen dynamically.
TacticalCamera: Have the player centred in the view (camera) whilst they move around a map (like the old starmap).
Unfortunately, there are issues with those among a few less notable options. We do however have another option albeit a complex one. Currently we're exploring this further but as is likely evident we aren't given too much away, but stay tuned… there may be a few surprises ahead.
Over the coming weeks our focus is shifting to tactical. The tactical grid allowed for most of the games actual behaviour by using the 15 second tick to allow players to move, shoot and generally cause chaos (as I'm sure most will recall).
Tactical however was quite basic, click here, go there, click here, shoot that. It also only spanned a whopping 580px by 440px (7 x 9 squares), this leaves us some room to get a bit creative in modernising the game.
Here in lies a dilemma, how should we modernize tactical?
Right now, we have a few ideas which we are exploring, ranging from the seemingly simple "make it bigger" through to some quite experimental ideas that could open several doors.
We're not 100% sure which route at this stage we will take but there will be a few more updates in coming weeks as we explore each accordingly.
There have been a few posts in the past about which aspects of the game we are looking to keep and which are looking to improve or even replace.
The 15 second tick being somewhat crucial among them. This past week we've been focusing on the tick, something that we had already put in place but thought it best to revisit.
In the days of old the ill-fated browser refreshing and server unavailable slowly got the better of the game, to keep this in check we're adopting a new approach.
Instead of refreshing the browser or polling the server for updates we are now pushing data directly to your browsers, this has several benefits but key among them are that:
We can cut the number of browser refreshes (eventually to nil)
We can keep all users synchronised in real time (refreshing will be discouraged)
But why keep the 15 second tick?
The game lends itself to a delay, you may need to type a message, cycle your weapons, pick a destination and ultimately choose whom to fire upon (or not).
This will likely be revisited again over time but for now, we'll be ticking.
Is it Back? In short, Yes.
Over the recent weeks there have been numerous changes afoot. As a result, we'll not only be breaking our radio silence but also aiming to deliver more updates on a more frequent basis.
The first of which is the forum, we've been forced due to technical reasons to create a new forum. In the interim, both will be available and we encourage you to move any content/ideas and or suggestions from the old to the new (as well as signing up).
OLD: http://community.interstellar-war.com/
NEW: https://iwcommunity.interstellar-war.com/
We will eventually close the old forum and have no plans at this stage to create any new forums.
Comming Soon™